Since 1984 we have endeavored to bring the ultimate knitting experience to discerning knitters. We want you to love every stitch that you make and we strive to deliver the level of quality, ingenuity and delightful surprises that will keep you knitting.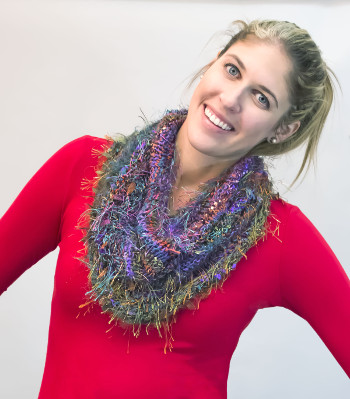 As seen in Vogue Knitting Late Winter 2018, we present the Brilliance Cowl (Pat 8205), using one full skein of Stuff. It knits up quickly in the round on large needles for a soft, flexible fabric, and is large enough to pull down over your shoulders for a little extra warmth (scroll down to see me in one). Shown here in Autumn Wild Stuff, it can be made in any type of Stuff: Cool, Layers, Neat, or Light. Pattern 8205, available as a leaflet or in Book 82. Texture, glitter and color are what we crave these days!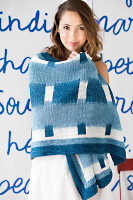 Introducing new Shades dyeing, as seen in Vogue Knitting Spring 2016. A new style of dyeing pioneered by artist Laura Bryant, Shades dyeing features cream or a very light tint at one end, a medium color that appears twice, and a dark color at the other end Laura's precision dyeing allows unique patterns to be knitted by simply employing a Magic Number (the number of stitches required to use up exactly one round of colors), attention to color stacking, and color repositioning. Read More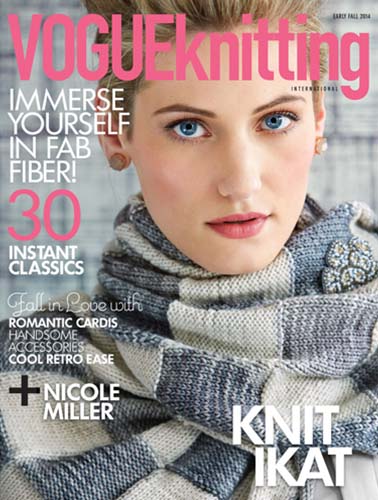 Prism is proud to be the home of Ikat Knitting, as seen on the cover of Vogue Knitting Early Fall.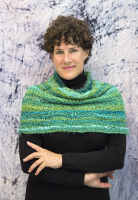 Creative Director and founder Laura M. Bryant trained as a fine artist in color and textiles and is a life-long knitter. She brings her passion to creating two seasons yearly of new yarns, colors and designs for knitters' enjoyment. These pages contain the most complete information we have for Prism Yarns. While we can't guarantee that colors will look the same on every monitor, Laura takes every photo herself and then color-corrects on a calibrated monitor for the truest representation. Although not every yarn is shown in every color, most yarns are available in our full range.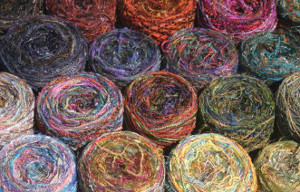 Prism is the exclusive manufacturer of Stuff Yarns™. Thirty to Forty individually hand-dyed, color and gauge-coordinated yarns that are tied together end-to-end by hand. When knit, the yarns change from one to another in varying lengths. In addition to five types of Stuff™, we hand dye a full range of classic, luxury and fashion fibers as can be seen in our Yarn Collection.