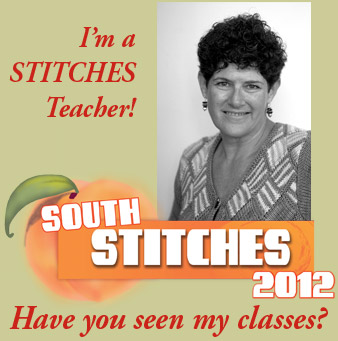 Laura's latest book with Barry, The New Knitter's Template, was just awarded a top prize for book design. You can read more about it here. What's fun is that we had major input into the design, and I did many of the illustrations with my new Photoshop skills, so we can rightfully share pride in this award. And, the book has just gone into its third printing! We are thrilled, and so will you be when you see what a great tool this can be.
Weaving Today from Interweave has a nice profile about Laura's new DVDs about color here.
Laura will be at Stitches West and South this year, and at VK Live! in New York City in January.
Take advantage of these opportunities to take a class with Laura. Here are some of the classes you'll find:

Color: Once you know how to knit with colors, learn the best way to learn which colors to use together. Laura teaches color based on her art training, and promises you'll never look at color the same way again! There is an introductory class and then a variety of 3 hour modules. You must have had either the 6 hour class or the 3 hour intro class to take others.

Intentional Patterning: We explore how to achieve purposeful pooling, stacking and argyles with hand dyed yarns, and how different stitches can affect both look and size. Lots of hands on knitting! Sells out really fast.

Fascinating Fibonacci: Did you all read the Da Vinci Code? Find out the history of this famous sequence of numbers, and how artists and knitters can apply them to design. Sells out really fast.

Stitch Strategies for Hand Dyed Yarns: Don't like striping, patterning and pooling? This class de-mysitfies hand dyed yarns and gives you many options for taming those beautiful but unruly hand dyes.

Short Row Saavy: A fun, fast paced class that teaches the essentials for short rows, then explores graphic and shaping possibilities, including bust darts.

Advanced Design and Construction: A truly advanced class that explores knitting architecture, including fitting tips derived from dressmaking, and knitting's ability to create volume. Must know how to draft patterns.

Freeform Knitting: Harness your inner creative self as you learn all of the building blocks to create truly abstract knitted art. Discussions include color use, modular shapes, short row shapes, and accents. Lots of knitting!